6 DAYS WORKSHOP ON ASANA ALIGNMENT AND ADJUSTMENT IN GOA, INDIA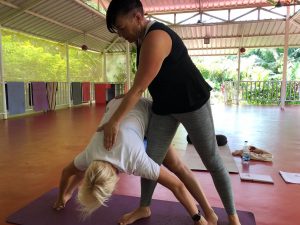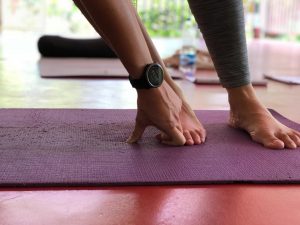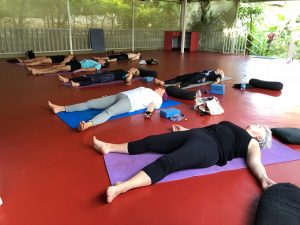 Go beyond the basics of alignment!
The Asana Alignment and Adjustment Workshop is an exclusively designed and extensively prepared 6-day workshop. This workshop includes one hour of Asana Alignment and Adjustment sessions.
These sessions have been systematically curated to help you tackle all body alignment related issues, improve your flexibility and increase your strength in a very safe and methodical manner.
It has been organized in a manner to impart maximum individual attention and constructive feedback. This workshop intends to make you adequately familiar with the problems associated with body mis-alignments, help you attain right body alignment and embrace proper body postures.
This workshop is conducted by qualified and experienced yoga practitioners.
Why Body Alignment Matters?
No matter what is your body type, proper body alignment is a basic necessity to keep your mind and body healthy. Focusing on body alignment fosters in you a growing sense of body awareness and massively boosts your self-confidence. Right body alignment reduces the risk of injury and helps you conserve energy. It also keeps fatigue and lethargy at bay. Appropriate body alignment and proper postures are the keys to balanced energy flow in the body. Body alignment substantially and directly impacts your overall strength and stamina.
What you will learn in this workshop
Different types and techniques of alignment adjustments
How to effectively implement different alignment techniques
How to use props for better alignment
Live demo and explanations of core and significant alignment postures
Anatomical approach and the therapeutic effect for every asana
How to focus your energies and efforts towards building a balance between strength, stamina, and flexibility
Self-practice of all asanas, alignment and adjustment techniques
Learn, practice and master 5 Spinal Movements using proper breathing techniques
Enhance your practice through step by step pose instructions
Skill Level Required
Beginner
Intermediate
Expert
Pre-requisites
This workshop is ideal for those who begin or finish the Yoga Retreat Experience and the Yoga Teacher's Training Program.
Standing Yoga Asana: Standing yoga poses help you set up a strong foundation for safe yoga practice. They help you stretch and strengthen all group muscles in the ankles, calves, glutes, hamstrings, thighs, and legs.
Forward Bend Yoga Asana: Forward Bend Yoga Poses will help you safely and steadily work on your stiff muscles, enhance your lower body flexibility, and help you attain correct alignment.
Back Bend Yoga Asana: Back Bend Yoga Poses have a powerful impact when it comes to alignment and posture correction. Step by step instructions, sequences and expert assistance will keep your practice pain free.
Inversion Yoga Asana: Our expert yoga trainers help you master inversions safely through step by step directions and sequences. Inversions help in improving body balance and immunity. They also help you increase your core strength. Inversions have a holistic impact on your body alignment and address multiple misalignment issues.
Twist Yoga Asana: Twist yoga poses help in aiding digestion, distress your lower back muscles and relieves you of lower back pain. These poses also hydrate your spinal disks.
Hip Opening Yoga Asana: Hip Opening Yoga Poses help open up and loosen the muscles and joints around the hips. They help in maintaining the proper alignment of the hips and the pelvis. They also relieve you of any existing pain, strain or tightness in the hip area.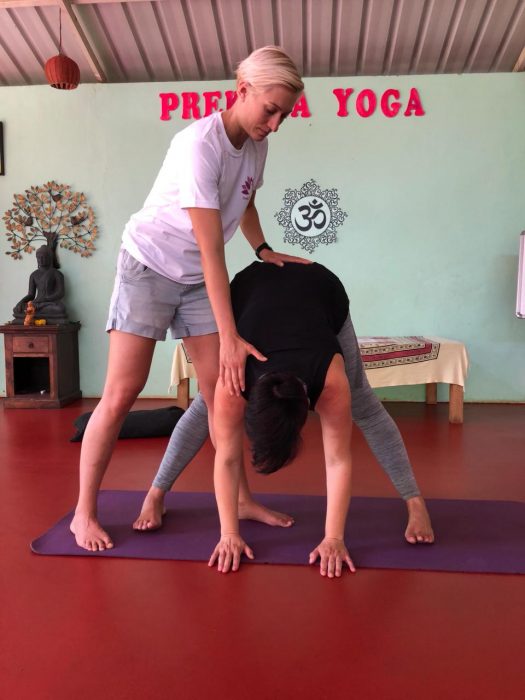 Dining Area
Garden
Multilingual Staff
Yoga Shala (School)
Internet Access
Library
Parking Lot
Environment Friendly
Meditation Garden
Airport Transfers
Dry Cleaning
Laundry