6 DAYS YOGA NIDRA WORKSHOP FOR STRESS MANAGEMENT WITH YOGA, AYURVEDIC MASSAGES, AND MEDITATION , GOA – INDIA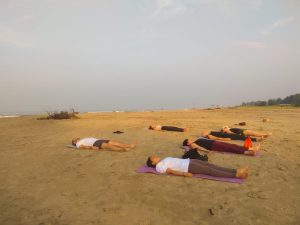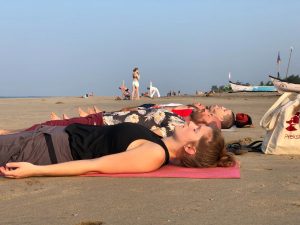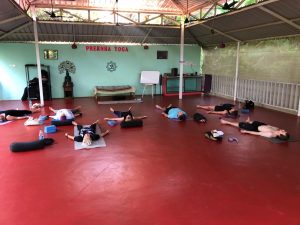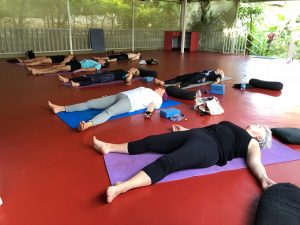 Massage for your Nervous System
Yoga Nidra is the most user-friendly meditation technique available to even those who are new to meditation or Yoga. Through 2 daily sessions of Yoga Nidra meditation, the week long retreat will help you relieve muscular & emotional tension and make you fall asleep better. Each day's session has a different theme to address overall relaxation, release of stress and cultivation of body and mind awareness.
You will also find an outlet to express your feelings and maintain your practice through learning to write a Yoga Nidra Journal in a beautiful journal provided by the Preksha Yoga.
The afternoon session will provide an insight into the history and philosophy behind this ancient practice, the neurological and psychological connect of Yoga Nidra and the scientific evidences of the benefits of Yoga Nidra practice.
Morning Classes
Yoga Nidra Practice Sessions – All Days
(Beginner's to Intermediate level sessions)
Afternoon Classes
Theory/ Journal Writing
(Apart from writing and maintaining Yoga Nidra Journal every day, following is the class break up of Yoga Nidra theory sessions)
Day 1 – History and Philosophy of Yoga Nidra
Day 2 – Neurological and Psychological connect of Yoga Nidra
Day 3 – Scientific evidence of benefits of Yoga Nidra
Day 4 – Q & A/ General discussion
Day 5 – A road map to the journey ahead / Maintaining the practice / Conclusion
Evening Classes
Day 1 – Yoga Nidra (Emotional Release)
Day 2 – Yoga Nidra (Acceptance)
Day 3 – Yoga Nidra (Gratitude)
Day 4 – Yoga Nidra (Letting go)
Day 5 – Yoga Nidra (Healing)
What you get
Accommodation, Meals, Yoga Nidra classes, Yoga Asana and Meditation Classes, Daily Ayurveda massage for 5 days and participation certificate. Complimentary T-Shirt and Cottage Bag.
Teacher
Bhavna is a certified hatha yoga teacher, has a masters in psychology, and a certification in "Foundation of Yoga Nidra" by Swami Yogratna Sarswati (SPF).
She has been practicing yoga for more than a decade and taught in various yoga studios, corporate sessions, community classes and online.
Reference Books
Swami Satyananda: Yoga Nidra, Yoga Publication Trust, Munger, 1998
NIDRA YOGA FEES (INCL OF STAY+MEALS)

Wooden Cottage / Apartment (Single)

Wooden Cottage / Apartment (Twin share)
Karma Yoga / Self Study / Free time / Ayurveda Massage

Karma Yoga / Self Study / Free time

Theory / Writing Yoga Nidra Journal

Yoga Asana Class / Ayurveda Massage
Dining Area
Garden
Multilingual Staff
Yoga Shala (School)
Internet Access
Library
Parking Lot
Environment Friendly
Meditation Garden
Airport Transfers
Dry Cleaning
Laundry