5 Days Blissful Yoga Retreat experience shared by Donna Torres.
Preksha Yoga Ashram is a place of spiritual retreat. It is not meant to be a getaway from life, but a let-up from worldly pursuits. This place has the potential to proffer spiritual seekers a retreat where they can spend some time concentrating exclusively on the divine aspect of life.
Preksha Yoga Ashram: A Paradise for Spiritual Healing
In the present day and age of distraction and disruption, having time to be by you, be alone and listen to your inner voices, your core, and the calling of your essence is perhaps the greatest of all comfort. This is what Preksha Yoga Ashram retreat is for – to listen to you and to think unthinkable! For my part, I have personally found my time in Preksha Yoga Ashram to be incredibly healing.
The Grand Campus of the Ashram
This yoga retreat in India provided a comprehensive stay with regular yoga sessions, clean and stunning accommodations, and magnificent meditation halls dressed in calm and serenity. The campus of the Preksha Yoga Ashram bore breathtaking facilities that were geared towards western and Indian travelers.
The Rules and the Rituals
The rules were uncomplicated, as well: no meat, drugs, cigarettes, alcohol, outside visitors on the campus. I found staying in the Preksha Yoga Ashram to be very nourishing and creative, and I would love to make time for it every year. Just five days spent here did wonders and ended up creating a long-lasting difference in my life.
There was a set everyday schedule that ashram expected me to follow. The day's flow could be read aloud by the usual activities – an anticipated blend of meditation, yoga, chanting as well as meal times. Also, there was some personal time for work out, exploration, healing – whatever one would wish to pursue.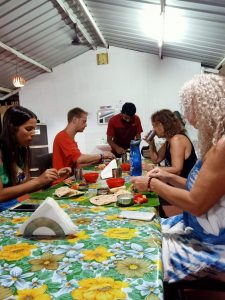 The Satisfying Food
Vegetarian food was served in a common dining hall. The food was simple and nourishing, satisfying, and fulfilling. The meals were very lightly spiced and didn't take in garlic or onion. Besides, it was extraordinarily well-cooked and purified so that even the most fragile foreign stomach could handle it.
The food was flavorsome, Ayurvedic, healthful, and best of all, safe and sound for my western stomach. I could gobble to my heart's content without distressing about how it was prepared or how the dishes were cleaned.
An Adobe of Serenity and Tranquility
Preksha Yoga Ashram is a receptacle of peace. The air here is filled with affection and devotion. Birds hum and sacred music float in. I loved soaking up the quietude and natural splendor of this garden-like ashram. I adored strolling in the half-dark along a pathway lined with the wealth of nature.
Meditating here early in the morning was bliss. The hour when the world awakes and observes the marvel of the sun was worth everything. The whole thing is washed clean, afresh, whining with sanctified energy. Sitting in peace, I could feel the sun scattering its rays across my body with a beautiful orange and gold.
Making Treasured Friends and Memories
Making friends with associate ashram guests was another delight. Meeting vacationers and locals who share your yogic, devotional, and divine passions is a pleasure. At times, the Preksha Yoga Ashram would have planned activities to take pleasure in. Engaging in such rewarding ashram activities and sharing a calm downtime makes your time energetic and heartening.
To end with, I'd say that at the point of leaving for India, I knew I was going to have an exceptional experience. However, I didn't make out that in just five days, my life would change radically. I didn't want to leave the Preksha Yoga Ashram. It was one of the most excellent experiences of my life!
5 Days Blissful Yoga Retreat experience shared by Donna Torres.